The building is located nearby the EXPO-2017 Exhibition Complex and follows the general futuristic style. The Congress Center together with the adjacent hotel facilities and Congress Office constitutes a uniform architectural ensemble. Due to the intricate fluent forms, the building symbolizes the dynamics of development of present and future achievements. The Congress Center of the 43,220 square meter total area has three floors above the ground and an underground parking lot. The height of the building amounts to 29 meters.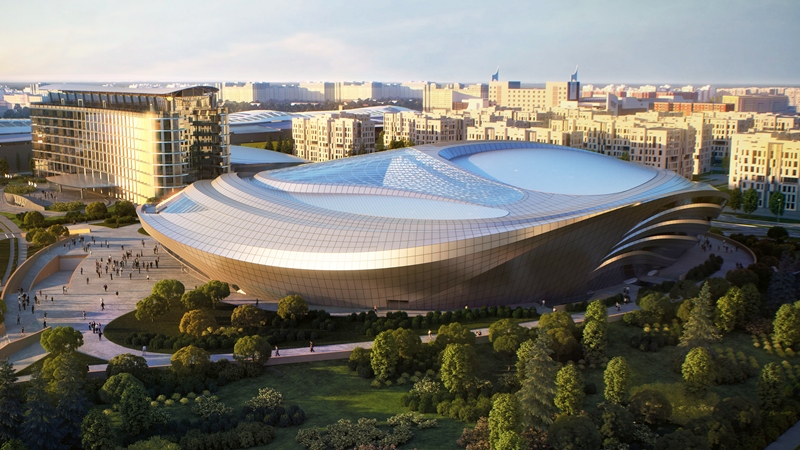 As per the plan of the architects, the complex has been designed in the way to be adapted for various event formats. For this purpose, a number of exhibition halls of the first and second floors are made multi-functional: during the EXPO, thematic conferences will be held here, panel sessions and culture events. The rooms are transformed by movable partitions, which allows rational use of the halls' space.
At the Congress Center, holding of large-scale cultural and entertainment events is planned: the Ceremonies of Exhibition Opening and Closure, thematic forums and concerts. Everything necessary is provided for this in the building including dressing rooms, actors' rooms, soundmen's rooms, interpreters' rooms, control rooms, storage and utility spaces. The auditorium itself is designed for 2,153 seats, with the telescopic seats allowing changing space and shifting the scene. The auditorium interior is made in the natural color scale with the use of acoustic panels compartmentalizing space. The large atrium hall glass roof fills the building with natural light. Thus, the comfortable social area is created for repose and communication. The connection between the floors is effected by four panoramic elevators and two ceremonial staircases enchasing the Central Atrium.
At the third floor, the offices of artistic administration and halls for reception of official delegations are situated. At the Congress Center, installation of a cloakroom automated system is provided for, where electro-mechanic a system of automatic delivery of clothes by a specific number is installed. One operator will be able to serve over 500 visitors.
The singularity of the facility lies in the implemented digital methods of designing which allowed depicting the optimal form of the building at the earlier stages.